Whether you're in the process of building a new home or renovating an already existing one, the type of siding you choose is an important decision you'll have to make. When choosing siding, there are six main issues you need to think about–ease of installation, water resistance, energy efficiency, aesthetics, versatility, and durability. Read on the pros and cons of different types of siding:
Stucco Siding
Made from cement, lime, and silica, stucco is a type of siding that's installed by applying several layers of the mixture over wood or metal.
Pros of Stucco Siding
One major pro of stucco siding is that it can help with insulation, keeping your home warmer in the winter and cooler in the summer. Since the cause for improved insulation is due to the fact that stucco creates a "shell" around the house in layers, stucco siding will also help with noise reduction, too. Stucco is also resistant to a variety of bacterium and molds, and is even fire resistant.
Cons of Stucco Siding
The biggest downside to stucco siding is its cost. Because stucco is applied in layers, high expenses are in the forms of both material and labor costs. Additionally, stucco isn't as water resistant as other types of siding.
Vinyl Siding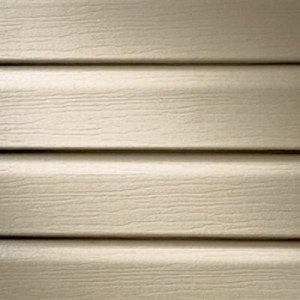 Introduced in the 1960s and now produced in more than 350 different colors, vinyl siding is the
most popular material amongst homebuilders
.
Pros of Vinyl Siding
Perhaps the biggest pro of final siding is the fact that's it's very inexpensive in comparison to other siding materials. Additionally, vinyl siding is very easy to install, and because it's now made in so many different color options, vinyl can create a very unique look for a home. And, the color is long lasting, unlike paint, which doesn't have much longevity.
Cons of Vinyl Siding
There's a reason that vinyl siding isn't very expensive: it's not very durable. Vinyl is prone to dents and cracks in its surface. These cracks, as well as the way that vinyl is installed, can sometimes lead to water leaks which can lead to mold growth.
Brick Siding
Brick is one of the oldest types of building materials around and remains popular today. Brick siding can be done in a variety of different fashions, including decorative brick, brick veneer, fake brick, or real brick.
Pros of Brick Siding
If you choose a brick veneer over real brick, it'll cost you about half as much and can offer just as good insulation or better than real brick. Another great thing about brick–both real and veneer–is that it's durable, doesn't need to be stained ever, has a long lifespan, and will help protect your home against fires.
Cons of Brick Siding
The cons of brick veneer and real brick are pretty similar. Both can be easily damaged by rain, which can lead to the growth of mold or other types of bacteria. Additionally, brick veneer and real brick are pretty pricy, and will cost much more than a vinyl option.
Stone Siding
As the name suggests, stone siding is simply siding that's made of stone. The stone creates an elegant facade that is well liked by many homeowners.
Pros of Stone Siding
Stone siding is the absolute best siding material when it comes to durability and quality. Stones are hardy materials that take tens of years of weather erosion to erode or deface. There's essentially no upkeep required for stone siding, and it's easily cleaned. Stone siding won't ever peel, crack, or fade.
Cons of Stone Siding
The biggest con of stone siding is the cost of labor. Stone, especially real stone, is heavy. Therefore, both moving and installing it will be very expensive and take longer to install than other types of siding. The stone itself can also be very expensive, too.