Advanced Window Product makes life easier for pet owners by providing a replacement sliding glass pet door that replaces the entire door. This means that pet owners can begin enjoying benefits of their dogs and cats being able to let themselves out at all times of the day and night. The energy-efficient design of the replacement sliding glass pet door allows you to leave the pet door open. If you need to keep pets inside, a simple door insert helps "lock" the door. Advanced Window Product is the manufacturer, not the dealer; this means there is no "middle man mark-up," producing immediate savings for the consumer. If you interested in replacing your existing patio door with a sliding glass pet door, contact Advanced Window Product today!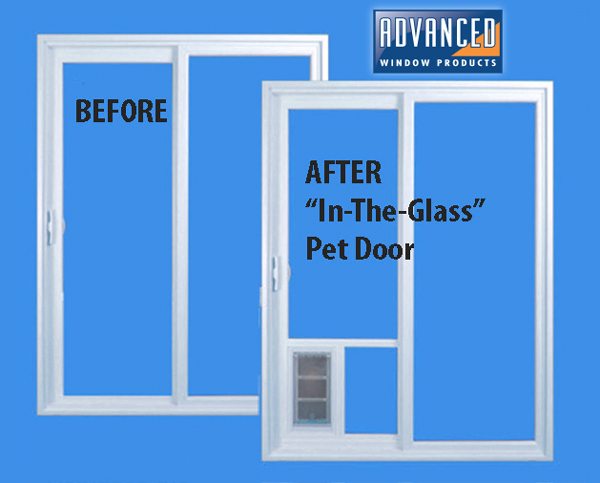 Who Can Benefit from a Replacement Sliding Glass Pet Door
The replacement sliding glass pet door is ideal for many kinds of animal lovers. For those who cannot easily make it up and down the stairs, the pet door allows the animal to let himself out as many times as necessary, thereby reducing the risk of the owner falling down the stairs. The replacement sliding glass pet door is also ideal for those working long hours. Pets benefit from consistency, such as being able to relieve themselves outside at set times. That is difficult for those who are away from home late into the day, resulting in messy accidents–a risk that only grows as the dog gets older. Fortunately, the replacement sliding glass pet door allows pet owners to work those long hours with the peace of mind knowing they won't come home to any nasty surprises.  Speaking of surprises, one of the greatest joys of buying this replacement sliding glass pet door is that your pets no longer wake you up in the middle of the night to take them outside!
Read more benefits of our sliding glass pet doors here
Sliding Glass Pet Door Features
Make no mistake: this is no simple pet door. The energy efficient glass used on the replacement sliding glass door provides amazing insulation. Our Sliding Glass Pet Door helps owners have the convenience of pets letting themselves in and out throughout the day and the convenience of keeping energy costs down. The door frame itself is energy efficient, increasing thermal efficiency with an exterior that is extremely resistant to sun damage and other weather effects. Even the door flap is energy efficient; the Endura flap helps increase efficiency and seals via magnetic strips as soon as the pet enters or leaves the home! The best part about all of this energy efficiency is that it doesn't obstruct the view: in fact, this design maximizes your view of your own beautiful yard. If you want a replacement sliding glass pet door that you and your pet will both love, contact Advanced Window Product today!
Download a PDF Version of this Webpage.